Dontbeadoormat is all about creating fun, un-run-of-the-mill doormat greetings with a pinch of sass to make you and your visitors feel loved and welcome when turning up on your doorstep.. and to show off how awesome you are, of course!

- Tessa & Dan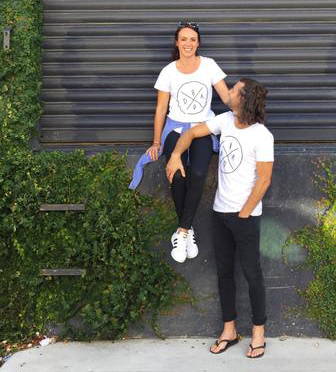 Tess + Dan. The creators, masterminds, boss babes, empire makers of DONTBEADOORMAT.
We've been together as a couple for 7 years, and started dontbeadoormat from scratch about 4 years ago from a little garage in New Zealand.
We started designing + making our own doormats when we couldn't find anything but boring, fuddy duddy "Welcome" doormats for our home. And we're not boring "Welcome" kinda people.
We're more of the "hello beautiful, yay it's you, got wine?" kinda peeps.
So we needed a doormat that suited.
Obviously!
Our dontbeadoormat entrepreneurship also stemmed from Tess having a 2 year battle with chronic fatigue, after which we knew we wanted and needed to create a job for her where she could be her own boss and put her health and wellbeing first. Since then, we have added another member to the DBAD crew, our daughter Indi, and we've decided to keep her on.
We LOVE doing what we do, and providing all the awesome, fun loving un "Welcome" people out there with doormats that display their awesomeness too (even though we nearly kill each other in the process sometimes).
We also take pride in the way we run our business, making sure it's done as ethically and sustainably as possible, while giving back along the way.
All dontbeadoormat designs are hand drawn with love in New Zealand and made ethically and sustainably in Sri Lanka.
We use biodegradable, recycled + sustainable materials wherever possible and are always looking to improve to help keep our world as clean, green and beautiful as possible.
Our doormats are made of coconut fibre (coir) and that are bound with a natural latex for added strength. There are no nasty plastics or PVC backings and are 100% biodegradable as we want to help make the environment last as long as poss, and this means YOU'RE making the environment last longer too. YAY! We have sourced what we think are the best quality mats in town from ethical sources, that are sturdy, look fab and have minimal shedding.
Here at dontbeadoormat our life motto is "live to give".
So when you purchase a dontbeaoormat, $1 is donated to KidsCan NZ to help feed, clothe and support Kiwi kids in need! Sheesh you're a good sort.